How to submit your inquiry / get a quote?
If you want to submit an inquiry or get a quote, you will need to fill an interactive online questionnaire. You can enter the questionnaire page by clicking the big "Get Quote" button on the home page, or clicking the "Inquiry" menu item on any page in our website.
The questionnaire contains a few steps and each step has its unique ID. The ID consists of one capital letter and one number, like A1, A2, B1 etc. You use the "Previous" and "Next" button to navigate between steps and you will submit the questionnaire at step Z1. Clicking on the step ID will pop-up the list of unlocked steps and hence you can directly jump to the chosen step.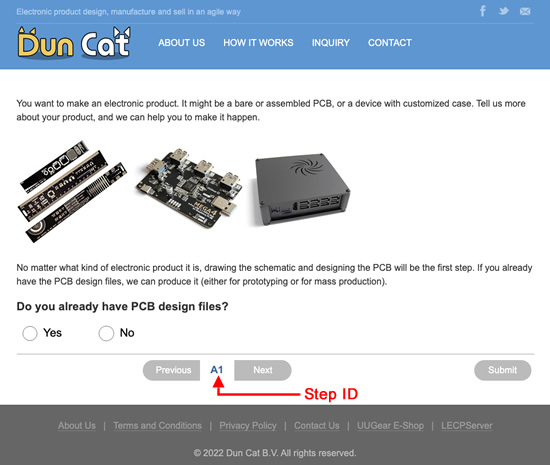 Each step has its purpose. For example, A2 is to collect the information for PCB production, which includes the gerber files and some preferences for manufacturing. Here you can upload the ZIP file that contains the gerbers of your PCB design, and preview the board. Changing the color of the board will also take effect immediately in the preview. You will see the price estimation (if available) on the bottom of the page.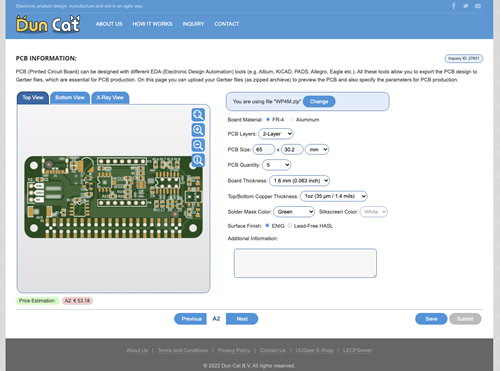 When you reach the step Z1, you can review the data you have previously input and also provide your contact information. Clicking on the "Submit" button on bottom right corner will submit your inquiry. You will receive an email with confirmation of the submitting.
You will also receive an email when the price quote for your inquiry is ready.